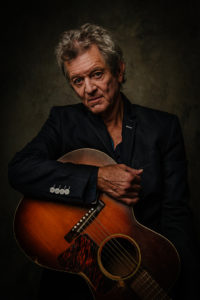 Rodney Crowell will perform at the historic Astra Theatre on Saturday, November 3, 2018.  Doors for this intimate acoustic trio performance will open at 6:30 p.m., a yet-to-be-determined opener will perform at 7:30 p.m., and Crowell and his two accompaniments will take to the Jim and Pat Thyen Performance Stage at 8:30 p.m.
Crowell is a two-time Grammy winner, a multi-Americana Music Award winner (including "Lifetime Achievement Award in Songwriting"), an Academy of Country Music Awards winner, an ASCAP Country Music Awards "Founder's Award" recipient, and a multi-Country Music Association Awards nominee.  He has had five number one country singles to his credit and has had his songs covered by the likes of Waylon Jennings, Johnny Cash, Rosanne Cash, Emmylou Harris, Jerry Reed, and Bob Seger.
Ticket for this reserved seat performance are on sale now at by CLICKING HERE and are $49.95 for VIP (preferred parking and seating and early venue access with refreshments and a free drink voucher), $29.95 for the main floor, and $29.95 for the Best Home Furnishings Balcony (the Best Home Furnishings Balcony is home to the Bell Tower Bar, a private balcony service-only bar, and has more immediate access to the Astra's restroom facilities).
Season ticket holders and business members will be contacted about their assigned seat information.
For additional information about Rodney Crowell, visit www.rodneycrowell.com, www.facebook.com/RodneyCrowellOfficial/, www.twitter.com/RodneyJCrowell, and www.instagram.com/rodneyjcrowell.
About Rodney Crowell
Rodney Crowell has been doing this for awhile.  In fact, his career has been so long and varied that one might be better off specifying exactly which "this" is being referred to.  There's the record making, which dates back to 1978, his commercial peak a decade later with Diamonds & Dirt (which yielded all five of his number-one country hits), and a grown songwriting sophistication and power in more recent years.  There's the fiercely lyrical and personal songwriting, which has attracted the attention of everyone from Seger to Keith Urban.  Then there's the autobiographical writing, which extends beyond the music world to a memoir, Chinaberry Sidewalks.