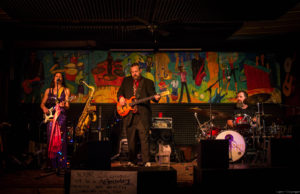 Bloomington-based jazz trio Opal Fly and KAPOW! will perform on the Jim and Pat Thyen Performance Stage at the historic Astra Theatre on Saturday, January 21, 2017.  Doors for the performance will open at 6 p.m. with regional musician and host of WNIN's "The Song Show" set to perform a brief acoustic set at 7 p.m.
The performance is being presented
in full
by local donors choosing to remain anonymous.  Tickets for the event are $10 per, with the entire amount of ticketing to benefit the historic Astra Theatre's renovation fund.  Tickets can be purchased in advance at
www.TheNextAct.org
or directly 
www.itickets.com/events/371368.html
.
Multi-instrumentalist Opal Fly is a Kentucky-born singer/songwriter whose music is firmly rooted in tradition, yet her style transcends established genres. A fresh and original voice, the two time NWAMA "Songwriter of the Year" first honed her talent playing on the streets of New Orleans and has traveled the world developing her unique sound and exploring new musical territory along the way.

Bassist Mark Buschkill and drummer Donn Middleton have played together in a number of groups over the last decade. As a rhythm section, they bring groove-based, power trio sensibilities that serve as perfect counterpoint to Opal's traditional leanings.

Joining forces in 2013, Opal Fly and KAPOW! released their first album in 2015 and took 2nd place in the "Best Band in Bloomington" category in the 2015 NUVO Readers Poll.
For additional information about Opal Fly and KAPOW!, please visit www.opalflyandkapow.com and for more information about Brick Briscoe, visit www.brickbriscoe.com. 
"…one of the most amazing voices in Blues."
– Michael Johnathan (Host of Woodsongs Old-Time Radio Hour)
"Ms. Fly is an incredibly fresh yet beautifully timeless creative artist whose soulful vocal stylings and deeply expressive saxophone playing are a joy to hear. She has shaped a repertoire that eloquently expresses her singular musical personality and interprets her material with intensity and grace that is entirely her own."
– John Sinclair (Poet, DJ, 60's Radical