Next Act, Inc., the 501c3 not-for-profit working to rejuvenate and renovate the Astra Theatre, will host an open house at the historic venue on Sunday, April 17, in honor and recognition of its 80 years of service to the community.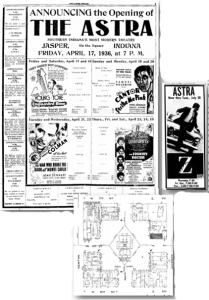 The Astra's original opening was on April 17, 1936, with a showing of MGM's 
The Unguarded Hour
.
"We've hosted a number of fundraising events in the Astra, and now wanted to take the opportunity to open the doors to anyone who has wanted to see the theater but hasn't had the right opportunity to do so," said Leslie Hamby, Next Act's Chairperson.  "In our minds, there is no better time to do that than on the 80th anniversary of its opening."
The Astra's open house is free and open to the public and will be held from 12:30 p.m. – 2:30 p.m.  Light refreshments will be available free of charge and, for those interested, a brief presentation will be made about the Astra's history and its new direction at 1:30 p.m.