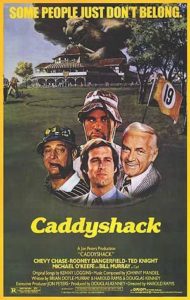 In honor of the recent 36th anniversary of the film's release and in an ongoing effort to raise much needed funds, Next Act will host a one-time showing of the iconic and hilarious golf classic 
Caddyshack
 at the historic Astra Theatre on Thursday, August 25.  Doors will open at 6 p.m., with the movie beginning at 7 p.m.  It is an all-ages show.
Sultan's Run Golf Club is sponsoring the evening of entertainment.
All proceeds from the night will benefit Next Act's fundraising campaign to renovate and rejuvenate the historic Astra Theatre—including the eventual purchase of theatre-quality sound, lighting and projection equipment. "For those who have not been in the Astra Theatre since it closed in 2002, all of the sound and projection equipment was removed when the theatre was shuttered. So, while attendees won't experience the movie in high definition and surround sound, it will still be a fantastic evening of entertainment—a classic movie in a classic theatre," said Leslie Hamby, Next Act's chairperson.
Tickets will be sold at the door the day of the event for $5. Those interested in attending should plan to arrive before the show (doors open at 6 p.m.) for games and other activities to help celebrate.  Wearing your favorite Caddyshack costume or your wildest golfing attire is encouraged, but not required.  There will be standard concessions (popcorn, drinks, etc.), as well as Schnitz Brewery & Pub craft beer available for purchase for anyone 21 and over.