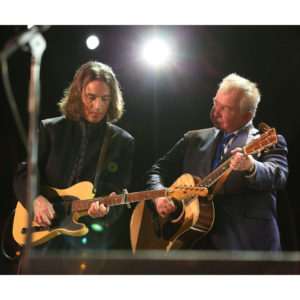 CLICK HERE TO PURCHASE ADVANCE SEATS TO THE MARCH 3 WILL READ AND SING FOR FOOD EVENT AT THE HISTORIC ASTRA THEATRE.
Will Read and Sing For Food will hold its 106th public benefit show on Friday, March 3, 7 p.m., at the historic Astra Theater on Jasper's town square.  Doors open at 6 p.m.
The show, which offers a unique mix of live music and humor essays, will raise money for our interior renovation fund.
Special guest musician Jason Wilber, who tours and records with American music legend John Prine, will perform in his fourth WRASFF show.
From Carnegie Hall to the London Palladium and throughout an endless stream of well-known venues in North America –Ryman Auditorium in Nashville, Wolf Trap in Virginia, Massey Hall in Canada, Red Rocks Amphitheater in Colorado –Wilber has backed up his good buddy and boss, John Prine, for over 20 years. He is using the WRASFF occasion to promote his solo work. He will sign and sell CDs after the show.

The show will also include Muscle Shoals, Alabama, singer-songwriter Daniel Market, WEVV TV 44's Gretchin Irons and WRASFF's Scott Saalman, Ray Major, Kyle Lueken, Marc Steczyk and WNIN 88.3's Paola Marizan (who cohosts the show with Saalman).

Finalists and winners of WRASFF's latest writing contest for middle and high school students in southern Indiana will also be part of the show, along with THE TWO BREW GUYS, Josh Premuda and Barry Dunlop (owners of BREW).
And if that's not enough, the show will also feature members of Actors Community Theater performing snippets of their upcoming play, "Tuesdays With Morrie."

Admission to the show is a $10 donation to Next Act at the door. The show will include a cash bar and snacks.