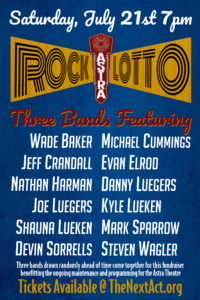 The area's first "Rock Lotto" will hit the Jim and Pat Thyen Performance Stage at the Astra on July 21, 2018, at 7 p.m.  The unique event will take 12 local musicians, divide them into three bands, and have the newly-formed "bands" perform five songs each.  Audience members will receive a voucher worth ten points to vote for their favorite band and additional "votes" can be given in the form of tips, with each dollar counting as one vote.
Rock Lotto will feature the following local musicians:  Wade Baker, Jeff Crandall, Michael Cummings, Evan Elrod, Nathan Harman, Danny Luegers, Joe Luegers, Kyle Lueken, Shauna Lueken, Devin Sorrells, Mark Sparrow, and Steven Wagler.
Rock Lotto tickets are $10 and are available at www.TheNextAct.org or directly here www.RockLottoAtTheAstra.eventbrite.com.  All proceeds from the event will be used for the historic Astra Theatre's ongoing programming and maintenance needs.
Tickets are still available for the June 2 screening of the 1939 classic film the Wizard of Oz, presented by the Greater Downtown Jasper Business Association (the Downtown Merchants), as well as for an intimate October 6 solo acoustic performance by critically-acclaimed Americana artist Pokey LaFarge.  For all Next Act and Astra Theatre ticketing info, visit astratheatre.eventbrite.com.