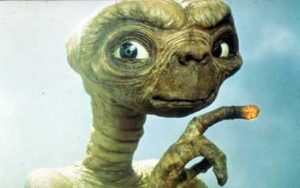 E.T. The Extra-Terrestrial is coming to the Astra Theatre on

Saturday, August 4, 2018, at 2:30 p.m.

The screening is being presented by and through a unique partnership and collaboration with Jasper Community Arts.
This special community-minded event during Strassenfest is open and free to the public, but seating is limited by capacity. Free will donations are appreciated and accepted in lieu of a paid admission ticket.  Reservations and free will donations can be made by CLICKING HERE.
Universally-acclaimed as one of the greatest movies ever made, E.T. is a sci-fi adventure that captures that strange moment in youth when the world is a place of mysterious possibilities, and the universe seems somehow separate from the one inhabited by grown-ups. The story that touched the world is a tale of extraordinary friendship and empathy despite out of this world differences. Directed by Steven Spielberg, the movie was released in 1982 and immediately became a blockbuster.
Please note this is not a Jasper Community Arts nor Next Act, Inc. season event. Seating is available on a first come basis.
Tickets are still available for a September 6 presentation on the "History of Color in Cinema" by noted film historian Eric Grayson, an intimate (and rare) October 6 solo acoustic performance by critically-acclaimed Americana musician Pokey LaFarge, and a November 3 acoustic trio performance by two-time Grammy winner Rodney Crowell. All tickets for Next Act, Inc. events at the historic Astra Theatre can be purchased at www.AstraTheatre.eventbrite.com.