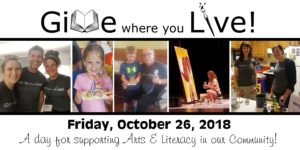 The second annual 'GIVE WHERE YOU LIVE!' day of giving campaign aimed at supporting arts' and literacy initiatives will be held on Friday, October 26, 2018, with activities planned for the entire day.  This year's campaign will specifically benefit programming at the Jasper Public Library, stage equipment at the Jasper Arts Center, and ongoing facility and programming needs at the Astra Theatre.
"We were blown away at the outpouring of support for the inaugural GIVE WHERE YOU LIVE! campaign in May of 2017.  The success of that day was instrumental to the arts in our community, particularly as it relates to helping Next Act finish the renovation of the historic Astra Theatre," said GIVE WHERE YOU LIVE committee chair Linda Kahle.  "We are hopeful for another fantastic day of giving and support—whether you choose to participate in any one or more of the day's activities, 'Very Big Show (of Support)' at the Jasper Arts Center that evening, or simply make a donation on our web page, we are very much appreciative of your consideration—big or small."
The inaugural 2017 GIVE WHERE YOU LIVE! campaign raised more than $70,000.
This year's GIVE WHERE YOU LIVE! campaign will be another day filled with events, activities, and other opportunities in which the public can participate and, in turn, support the effort.  Students are off school that day, so there is a concentrated effort and focus on children's activities with special events at the Train Depot in the morning and the Astra Theatre that afternoon.  The day will conclude with a showcase of local talent of all ages with the "Very Big Show (of Support)".
Tax deductible donations may be given at any time prior to or on October 26 at the GIVE WHERE YOU LIVE! website 
www.GWYL.org
.  There are various giving levels, most of which are complimented by an entry into a raffle for a number of different incentives.  Some of the incentives included in the raffle are:  a singing telegram delivered by members of Actors Community Theatre, a canvas paint party at the Jasper Arts Center, a private escape room for the winner and seven friends, and a birthday party package with the Dubois County Bombers at League Stadium in Huntingburg for up to 15 children.  Multiple donations would also increase raffle entries and, ultimately, the opportunity to win.
New for this year's event, is the "Top Donor Donor Business/Organization Contest".  The business (whether through a corporate donation or through employees pooling money) that is the top dollar donor will receive a private movie screening at the Astra Theatre with pizza provided by Papa Johns.
The day's full schedule of activities are (all times eastern):
An email campaign beginning at 12:01 a.m. encouraging online gifts, as well as sharing the #gwyl2018 message across personal social media channels
5:15 am., Downtown Fitness, P90X, $5 fee per person, 10% of any shoe sale between 3-5 pm will be donated
5:50 am., B and B fitness, Spin class, $5 fee for non-members donated
9:00 am, Firehorse yoga, yoga class,  $5 drop in fee donated
ALL DAY, Azura Café, enjoy a specialty drink created for gwyl2018
ALL DAY, Brew, enjoy a specialty cocktail created for #gwyl2018
ALL DAY, Mad Badder, $1 of every glazed cookie will be donated to the campaign
ALL DAY, Denny's, Wendy's, and Grandy's will donate a percentage of sales
ALL DAY, Ohana's will donate 10% of food sales
10 am, Story time and art activity based on the book, Dragons Love Tacos at the Train Depot (free, but donations appreciated)
11:40, Downtown Fitness, P90X, $5 drop in fee donated
ALL DAY, Finishing Touches, Whimsy, Chocolate Bliss, Made With Grace, Olinger Diamond Center, Studio H, Impulse, Merle Norman, Adventures in Recreation, a percentage of sales will be donated
ALL DAY, Green Thumb will donate 10% of plant and giftware sales at the Jasper store
ALL Day, Disinger Jewelers will donate 10% of sales and $10 for each Jasper bracelet sold
ALL DAY, Elements , create a "make and take" art project (suitable for all ages and abilities)—$10 fee donated
ALL DAY, Occasions, 10% of sales beginning on Night of Appetizers, Oct. 24th through GWYL day donated
ALL DAY, EJ and Dots will give a percentage of all books sold, including books featuring the creatures the kids will encounter at the Silly Safari (2 p.m., Astra Theatre)
All DAY, Komfortable Haus, Jasper Embroidery, Jagged Edge, Illusions, Just a Trace, Headquarters, Luegers, Walmart, Ivy Manor, have given cash donations
12 pm -6:30, Snaps, $1 of every Moscow Mule and Mojito donated to the campaign
2:00 pm, Silly Safaris at the Astra Theatre, fun show for all ages (free, but donations appreciated)
3:15-3:45 pm, Downtown Fitness, "Just Breathe" yoga class for ages 8-12 and parents, based on the book by Mallika Chopra, Class fee of $2-5 donated
6-12 pm, Snaps, $1 donated for every dessert sold
7 pm, The Very Big Show (of support), a variety show featuring local talent, Jasper Arts Center, $10 ticket with full proceeds going to #gwyl2018, children under 10 are free (tickets may be reserved at https://bit.ly/2zZBtEn.
All proceeds from the day's events, including the variety show, will benefit the Jasper Public Library, the Jasper Arts Center, and the Astra Theatre.  For more information about the 2018 GIVE WHERE YOU LIVE! day, visit 
www.GWYL.org
, 
www.JasperArts.org
, 
www.jdcpl.lib.in.us
, and/or 
www.TheNextAct.org
, or follow any of the three entities on all major social media platforms (Facebook, Twitter, and Instragram).