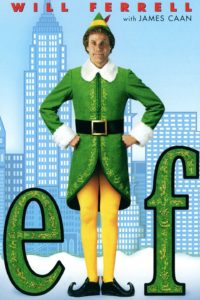 As a complimentary piece to Jasper's O'Tannenbaum Days, Next Act, Inc., will present the Christmas comedy classic Elf at the historic Astra Theatre on Saturday, December 1, 2018. Tickets are $8 and can be purchased online in advance by CLICKING HERE or, if available, the night of the show at the doors. Show time is 7 p.m. eastern and the Astra's doors will open at 6:15 p.m.
Elf, starring Will Ferrell, James Caan, and Bob Newhart, was originally released in 2003 and was directed by Jon Favreau. The classic Christmas comedy follows Ferrell's character after he inadvertently wreaks havoc in the North Pole, due to his ungainly size, and is sent to the New York City in search of his true identity—and father.
For additional information, please visit www.TheNextAct.org, phone 812-566-1935, or email info@thenextact.org.
Tickets for upcoming Astra Theatre events are still available for The Rocky Horror Picture Show screening on October 27, a November 3 performance by two-time Grammy winner Rodney Crowell, a night of comedy featuring Todd McComas and Jeff Oskay on November 10, as well as for 90s rockers The Why Store on December 8. All tickets for Next Act, Inc., events at the Astra Theatre can be purchased directly at www.AstraTheatre.eventbrite.com.