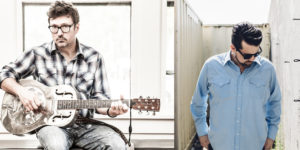 With a $1.6 million renovation headed toward completion, Nashville recording artists Will Kimbrough and Patrick Sweany are set to re-open the historic Astra Theatre on Saturday, April 14, 2018. Doors will open at 6:30 p.m., with the performance beginning at 7:30 p.m.
We strongly encourage you to get tickets in advance, as we would anticipate this to be a quick selling show!
Kimbrough, a former Americana Music Association "Instrumentalist of the Year", will perform with a full band, while Sweany, who first gained prominence as an acclaimed-acoustic blues guitarist, will perform an opening solo acoustic set.
"In planning the grand re-opening of the Astra, we thought it important to keep ticket prices reasonable, while also working with artists that would bring top shelf talent with an understanding of all that comes with first-time events," said Marc Steczyk, president of Next Act. "Having worked with Will before, we knew his talent and his personality were the perfect combination to kick off a season's worth of events at the Astra."
Tickets available now by CLICKING HERE. Main floor/general admission tickets are $16.95, balcony tickets are $24.95, and VIP packages are $29.95.  For a limited time, use the code ASTRA2018 to unlock a $2 per ticket discount at any level!
The VIP package includes preferred seating and parking (closest to the stage on the main floor/parking at the Matrix Integration lot), early venue (5:45 p.m.) access for a first-look guided tour of the Astra, a meet and greet with the artists, finger foods, and a free drink voucher good for Pepsi products or an adult beverage.
Season ticket holders are guaranteed general admission/main floor seating and, for a slight fee, can upgrade to balcony seating or a VIP package. If you are a season ticket holder, we will reach out directly via email and/or postal mail with detailed instructions on how to upgrade.
Along with being an Americana Music Award winner, Kimbrough, www.willkimbrough.com, has had his songs recorded by Jimmy Buffett, Little Feat, Jack Ingram, Todd Snider, and more. He has collaborated with and/or done session guitar work for the likes of Rosanne Cash, Guy Clark, Rodney Crowell, Steve Earle, Emmylou Harris, The Jayhawks, Buddy Miller, John Prine, Billy Joe Shaver, and more. The multi-talented instrumentalist has also served as the touring guitarist/musician for both Rodney Crowell and Emmylou Harris (most recently on a string of 2017 summer dates opening for John Mellencamp).
Sweany, www.patricksweany.com, has six critically-acclaimed studio albums to his credit, two of which were produced by his former bandmate, Dan Auerbach of The Black Keys. He has played at premiere festivals across the country (Newport Folk Festival, Merlefest, Montreal Jazz Fest, and Telluride Blues & Brews fest) and supported international acts such as The Black Keys, The Tedeschi Trucks Band, The Wood Brothers, Hot Tuna, and others on tour.
Next Act, Inc., and its general contracting partner, Seufert Construction, are in the final stages of a complete renovation of the historic Astra Theatre. The April 14th date has long been the projected end-date/goal for completing the project, as a Saturday evening that most closely aligns with the Astra's original grand opening date of April 17, 1936.
Funding support is still needed to close a financial gap and eliminate or reduce the amount of money the organization will need to borrow to complete the renovation. A 2018 membership campaign is underway and any denomination is appreciated, with incentives begin at the $100 level. Official 2018 Astra t-shirts can be purchased for $25—click here to order yours today! For additional information, including more incentive details, please click here.