Next Act, Inc, the non-profit organization that owns and operates the historic Astra Theatre in Jasper, Indiana, releases the first half of their 2020 season. Newly renovated with 357 seats, the Astra has main level and balcony seating with a concessions stand offering snacks, local craft and domestic beer, and wine that are available for purchase.

This is the third season of entertainment in the theatre since major renovations took place in 2017. The Cold Stares opened the season with a performance on January 18, and through the end of July, another six public events will take place on the Jim and Pat Thyen Performance Stage.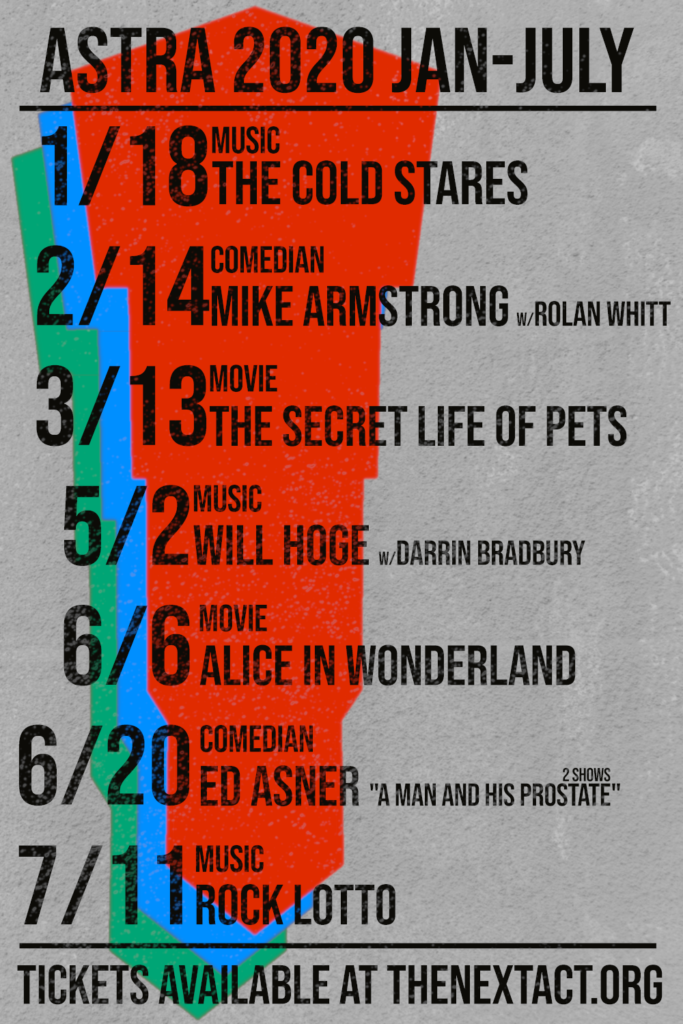 Tickets are on sale to the public now for each of these events here. Next Act has reached out directly via email to both season ticket holders with their tickets.
On Friday, March 13, Next Act will be partnering with the Dubois County Humane Society in showing the movie The Secret Life of Pets, rated PG. This event will result in $2 from each ticket sold being donated to the Humane Society. The movie will begin at 7:00 pm EST, the runtime is 1 hour and 27 minutes, and tickets are $5 each.
Will Hoge will get the music going again when he brings his mix of country, southern rock, and Americana songs to the Astra on Saturday, May 2 at 7:30 pm EST. This multiple Grammy nominated artist will take the stage after Darrin Bradubury gets the evening rolling. General admission tickets are $15 while VIP tickets can be purchased for $30.
In conjunction with the the Jasper Community Arts and their annual Chalk Walk, the original 1951 film Alice in Wonderland will be shown on Saturday, June 6 beginning at 3:30 pm EST. The run time of this movie is 1 hour and 15 minutes, and it is rated G. Tickets will be sold for $5 each.
Seven-time Emmy winner Ed Asner will grace the stage at the Astra Theatre on Saturday, June 20. The well-known actor will bring a comedic routine to Jasper for two separate shows. An afternoon show will take place at 3:00 pm EST, and Asner will again take the stage at 7:00 pm. EST. Tickets are on sale for $25 each.
In the heat of the summer, watch the competition get hot with our third annual Rock Lotto on Saturday, July 11 at 7:30pm EST. The unique event will take 12 local musicians, divide them into three bands, and perform five songs each. General admission tickets are only $10.
Additionally, a 2020 membership campaign for charitable donations to The Next Act is currently underway.  The campaign includes fun incentives, and more information about support levels can be found here.