Tickets and Info about Upcoming Events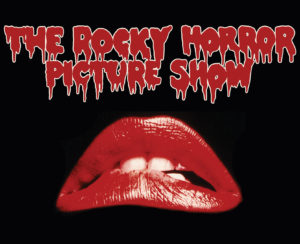 The Saturday, October 29, screening of the cult-classic The Rocky Horror Picture Show is being presented by Libby's Gourmet Ice Cream.  Doors will open at 6 p.m. with the movie set to begin at 7 p.m.  Tickets are $6 and can be purchased in advance here or at the door the night of the show.
The Rocky Horror Picture Show is renowned for its audience participation roles at different times and scenes during the film.  There will be Astra-appropriate props available at the venue the night of the show for purchase as a $6 kit.  To view a list of included items in the kit, as well as what cannot and will not be tolerated for use during the film, visit www.thenextact.org/rocky-horror-kits/.  To encourage the safety and enjoyment of the film by all in attendance, any bags brought to the theater could be checked for inappropriate items.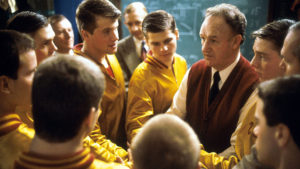 A special screening of the iconic film 
Hoosiers
 will be held at the historic Astra Theatre on Saturday, November 19, at 7 p.m.  Doors will open at 5:45 p.m., tickets are $6 per, and can be purchased in advance by
clicking here
.
The evening is being presented by All Star Sports in Ferdinand.
2016 marks the 30th anniversary of the iconic basketball film, which tells the improbable state championship run of Hickory High.  Hoosiers stars Gene Hackman and is based upon the true story of the 1954 Indiana state basketball championship of Milan High School.
Donate to Help Save The Astra
Help us revive the Astra!  Your generosity will contribute to the necessary renovations of the Astra, including things like: sign restoration, seating/upholstery, bathrooms, and wall coverings/insulation.
Donate today to qualify for a limited-time donation incentive! Click below on your desired level of giving to be directed to a secure online donation page.   
 Click here to download a printable donor form, complete it, and mail a check (made payable to "Next Act, Inc." to:  Next Act, Inc., P.O. Box 23, Jasper, IN 47547).
There are also opportunities for naming rights at the Astra Theatre. Find more info by clicking here
---