Tickets and Info about Upcoming Events
Southwest Indiana Film Festival–Saturday, October 1
The Dubois County Film Commission will host the 3rd Annual Southwest Indiana Film Fest at the Astra.  Movie details and times will be updated as the event draws near.  In the meantime, find out more at their website.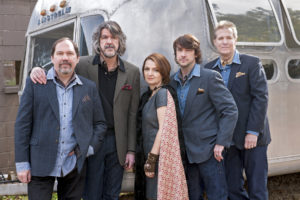 The Next Act be hosting The SteelDrivers, the 2016 Grammy Award winner for "Best Bluegrass Album of the Year", at the historic Astra Theatre on Saturday, October 15.
The night is being presented by our friends and partners at Best Home Furnishings.  Tickets may be purchase here.
There are two ticket prices for the event:  $55 per VIP ticket and $27.50 per general admission ticket.  The VIP section will be limited to 75 total seats and will include the following package:  a meet and greet with The SteelDrivers at Brew, Jasper's soon-to-open all day cafe (cash bar, free finger foods); preferred parking at the Matrix Integration lot; preferred seating at the show; and a free drink voucher (redeemable at the Astra-only).   Tickets may be purchase here.
Beech Grove, Indiana's Brandon Whyde will perform a brief opening solo/acoustic set at 7:30 p.m.  The Astra's box office and doors will open for the event at 6 p.m. (eastern).  The SteelDrivers' performance will begin at 8:15 p.m.  VIP ticket holders can arrive for the meet and greet with the band at Brew at 5:30 p.m. and must show tickets for entrance.
Donate to Help Save The Astra
Help us revive the Astra!  Your generosity will contribute to the necessary renovations of the Astra, including things like: sign restoration, seating/upholstery, bathrooms, and wall coverings/insulation.
Donate today to qualify for a limited-time donation incentive! Click below on your desired level of giving to be directed to a secure online donation page.   
 Click here to download a printable donor form, complete it, and mail a check (made payable to "Next Act, Inc." to:  Next Act, Inc., P.O. Box 23, Jasper, IN 47547).
There are also opportunities for naming rights at the Astra Theatre. Find more info by clicking here
---